Fixed Implant Dentures | All-on-4® Treatment Concept
Missing teeth can be a huge stressor that changes the way you eat, smile, and even speak. If you are missing all or most of your teeth, your entire daily routine often has to shift to accommodate it.
Thanks to modern dental techniques and tools, we have a number of amazing options to help you restore your teeth and heal your smile. One that we're particularly excited about is the All-on-4® dental implants treatment concept—or fixed implant dentures.
What Is The All-on-4® Treatment Concept?
The All-on-4® Treatment Concept aims to replace all missing teeth by permanently anchoring a set of dentures on just four strategically placed implant posts. This is efficient, while still being strong and effective. Dentures anchored with All-on-4® Treatment Concept dental implants are long-lasting, durable, and will never slip or slide during dinner.
This concept allows for faster healing and smile restoration time. With fewer dental implants placed, we are able to restore the new dentures in record time.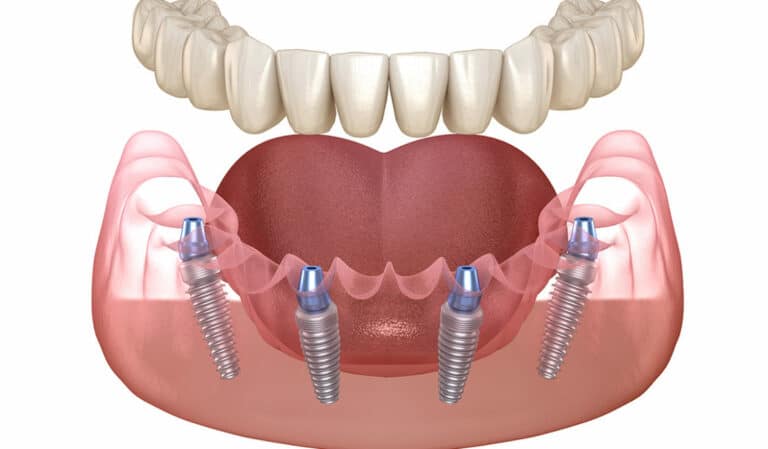 The Benefits of Fixed Implant Dentures
If you are missing several teeth, a large number of implants may be difficult for your mouth. An extremely efficient alternative is the implant-supported denture. Rather than 10 or more implants, the All-on-4 denture set can be attached by only four implants in the jaw.
Not only is this a more efficient alternative to a full mouth implant treatment, but it comes with many of the exact same benefits. This includes: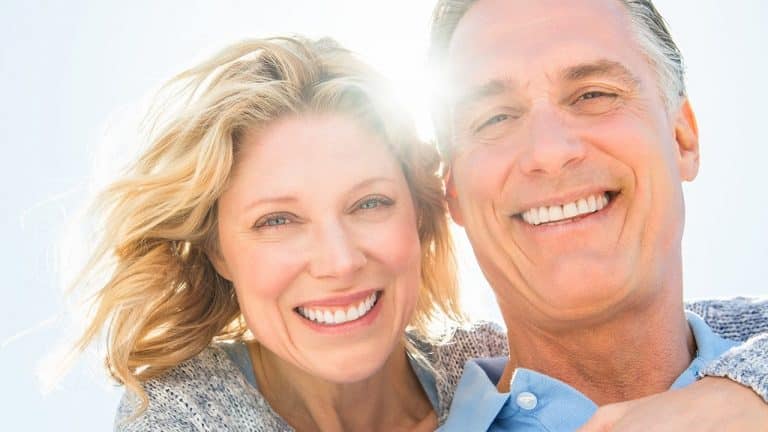 Comfort. Traditional dentures can put pressure on your gums and jaw. A permanent denture like the All-on-4® treatment concept is permanently secured in place with implants, so you can enjoy a pain-free experience.
Stability. Implants provide a secure attachment for your dentures, which means you don't have to worry about shifting, slipping, or sliding. Eat what you love without worrying about losing your teeth!
Jawbone Health. The dental implants used can strengthen your jawbone due to the implant roots. The implants can help encourage bone regrowth and improve bone density. They also help restore your natural face shape.
Simplified Care. All-on-4® treatment concept dentures are permanent and easy to clean, so you don't have to take them out and clean them in a solution overnight. You won't need to worry about adhesives either because you'll never have to use glue to keep your dentures in!
Natural Aesthetic. Your new teeth will look and feel just like your natural teeth. Although you may need a few days to get used to them, they are designed to fit comfortably in your mouth and give you a beautiful natural-looking smile.
Lower Cost. By strategically placing four implants in the strongest parts of your jaw, you can avoid the extra cost of more implants or bone grafting. You can enjoy full-arch restoration without the added worry of extra costs.
Increased Confidence. A full smile can improve your self confidence! In our society, we use our smile to communicate with others. You can feel confident again with a beautiful full-arch restoration.
With all these improvements over traditional dentures, you'll understand why so many of our patients love these fixed dentures.
If you're looking for a way to restore a full set of teeth with dental implants, the All-on-4® Treatment Concept is a streamlined way to get full dentures with fewer implants placed in the first stage. Call our office in Las Vegas today to learn more about this exciting procedure!
What Are Dental Implants?
Due to their unique structure and treatment procedure, dental implants are different than any other tooth replacement option. They have more to them than just a new biting surface. Dental implants are complete root-to-crown synthetic teeth.
There are three basic dental implant parts: The root, the abutment, and the crown.
The Root | The root of an implant is a sturdy post made of medical titanium. It functions in much the same way as a pin that is used to heal a broken bone, and is made of the same material.
The Abutment | The abutment is a small connector piece that attaches the top of the implant post to the bottom of the dental crown.
The Crown | This portion of the tooth replaces the missing biting surface. It is made of custom-crafted dental porcelain that is color and shape matched to your individual bite.
Together, these three pieces create a full replacement tooth from root to crown.
How Do Dental Implants Work?
The dental implants procedure often feels like quite an intimidating prospect, but it can be broken down into a few easy-to-understand steps.
Pre-Placement
The dental implant process begins with a consultation. Before we do any implant treatment, we take several scans and x-rays of your mouth so that we can determine whether you are a candidate for implant placement. Implants require a certain amount of jawbone strength and thickness, so that it can securely hold the implant rod.
If you do not have sufficient jawbone structure, don't worry! There are procedures we can do to help you become a great implant candidate. This includes performing a bone graft for dental implants, in order to thicken and strengthen the bone.
The Rod Placement
The next step in the dental implants procedure is the actual dental implant surgery. During this stage, the titanium rod is placed into your jawbone, right where the original tooth root would naturally sit.
Osseointegration
Just as the bone of a broken leg will fuse to a pin, the bone of your jaw will heal around the implant post. Together, both become stronger than either were separately. This fusion makes a strong and long-lasting anchor for the crown of the tooth.
Crown Placement
Once the bone is totally healed, a dental implant dentist will use an abutment piece to attach your custom-crafted dental crown. This crown is designed to perfectly fit with the rest of your smile.
All together, this implant structure is designed to look, feel, and act like a natural tooth.
Frequently Asked Questions
Dental implants reviews show immense satisfaction with dental implantation, but it doesn't stop there. Read the frequently asked questions below to get the real truth about dental implants.
HOW LONG DO DENTAL IMPLANTS LAST?
Implants have been shown to last for decades and counting. They are both sturdy and effective. When you get a dental implant, you're making an investment in your future that will likely last the rest of your life.
DO DENTAL IMPLANTS HURT? ARE DENTAL IMPLANTS PAINFUL?
Implant posts are placed through a surgery. There will be healing time that is required for osseointegration to fully take place, as well as for your gum tissue to recover from the post placement.
However, once the implants are healed and treatment is completed, the implants themselves should feel, act, and look like completely natural teeth. There should be no pain that comes from the synthetic tooth itself. If you experience any, make an appointment with us immediately.
ARE DENTAL IMPLANTS SAFE?
Absolutely. The materials used in dental implants consist of medical titanium and dental porcelain. Both of these have been widely used in the dental industry, and are proven to be safe and hypoallergenic.
The implant procedure itself is also very safe. Dental technology has given us tools that make anesthetics more precise than ever, x-rays and scanners that can help us plan the entire procedure before it even happens, and computers that can guide the placement of the rod in real time.
WHO DOES DENTAL IMPLANTS?
A trained implantologist will place the titanium post for you. Once that has been healed, we are prepared to add the dental crown.
Fixed Implant Dentures / All-on-4® Treatment Concept Dental Implants
If you are interested in implant-supported dentures, don't hesitate to contact us today. We're happy to schedule you for a consultation, and show you what kind of quality dental implants we can offer to Las Vegas residents.