At Wagner Dental, we recommend parents schedule their child's first visit to an orthodontist before their 7th birthday—but we're not the only ones to advise what may seem like an early visit. The American Association of Orthodontists recommends taking your child at the first sign of an orthodontic problem, or for a general examination around the age of 7, when your child will have a combination of primary (baby) teeth and permanent teeth.
Signs of an Orthodontic Problem
Although it might sound like premature alarmism to classify developing teeth and jaws as problematic, there are things to look out for, and the reasons aren't limited to straight teeth being more aesthetically pleasing. In fact, straight teeth aren't a guarantee against dental problems; rather, they tend to suggest proper bite and jaw alignment and make for easier hygiene routines, which are essential for decay and gum disease prevention.
With that being said, signs that a visit to an orthodontist may be beneficial include:
Early or late loss of baby teeth (see our chart to the right for reference)
Difficulty chewing or biting
Mouth breathing
Jaw shifting or noise with movement
Difficulty speaking
Frequent biting of cheeks or roof of mouth
Imbalanced facial appearance
Teeth grinding or clenching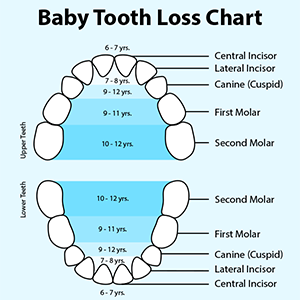 Invisalign for Children
Invisalign® can be a beneficial solution for children with crooked or misaligned teeth to provide them with a straighter, stronger smile. Wagner Dental can determine if a child is a good candidate for Invisalign® treatment and can come up with the best schedule for the procedure. Wagner Dental will focus on the smile esthetics of their teeth to result in a natural-looking placement of their teeth in the best way in relation to their smile.
"I have now gotten over my anxiety regarding the dentist. This place rocks, everyone in my family goes here. They do a great job helping keep my smile beautiful."

Dawn M.
Habits to Make or Break
The truth is, even the healthiest routines may not prevent the need for orthodontic care, but there are definitely habits that can make it less likely. Taking good care of baby teeth can ensure they don't leave your child's mouth too soon. A common misconception is that baby teeth aren't important because they're not your child's permanent set, but they're necessary not just for maintaining a healthy diet (the stronger your teeth, the more you can chew without issue) and clearer speech—they save space for your child's permanent teeth.
When a baby tooth is lost too soon, your child's permanent teeth may change direction underneath their gums, leaving less room for their surrounding teeth to come through without crowding. And of course, when we look at the culprits of early tooth loss, they're things you want your child to avoid—tooth decay and gum disease. These infections can be painful and cause them to miss school and playtime, and they can hurt their self-confidence.
To give them the best chance at keeping their baby teeth strong and healthy until they loosen on their own schedule, softly massage their gums with a damp rag before their teeth even arrive. This will help when they teethe and prepare them for the next stage of oral hygiene. When your child's first tooth pokes through, use a soft-bristled baby toothbrush (or fingerbrush) and an amount of fluoride-free toothpaste (until they can spit instead of swallowing the paste) equal to the size of a grain of rice to gently brush them clean at least twice a day. When more teeth make their entrance and they start to touch, introduce floss.
You'll want to ensure your child doesn't rely on bottles, pacifiers, or thumb sucking past the age of two. Their prolonged use could lead to protruding teeth, causing misshapen bone and an open bite. An open bite can lead to TMJ (temporomandibular joint) dysfunction and even sleep disorders. Another habit that can damage teeth and bites is nail biting. The frequent gnashing of teeth can cause chips in the enamel and an inflamed TMJ.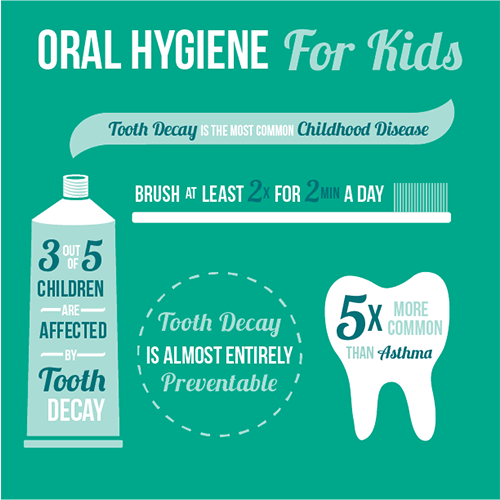 Have questions about early orthodontic treatment?
If you have questions or would like to schedule a visit with your Las Vegas family dentists at Wagner Dental, give us a call or fill out our convenient online form to have a member of our team contact you as soon as possible!
Request An Appointment
(702) 878-5599
Early Intervention
We know that orthodontic treatment isn't the most fun thing for a child to experience, and that it can complicate their developing oral hygiene routines. However, early intervention is recommended to create an oral environment that permanent teeth will thrive in, not to improve the appearance of your child's smile—that's just the benefit of repositioning their bite and teeth to make it easier for them to chew, speak, and have optimal oral health throughout their adolescence and then adulthood.