Emergency Dentistry in Las Vegas
Life often has a way of getting in the way of our plans. And when life throws a curveball at your teeth, we want to know about it. Whether you have a toothache, painful sores, or bleeding gums, the staff at Wagner Dental is eager to help get you back on your feet.
Emergency dentistry involves caring for unexpected and sometimes debilitating situations involving your gums, teeth, tongue, and jaw. If you're experiencing oral trouble, don't wait a second longer. Give us a call and get seen soon!
When Does Dentistry Become Urgent?
It's generally expected that to maintain a healthy mouth, you should visit the dentist at least once every six months. But Wagner Dental always welcomes patients who visit us between semi-annual appointments for emergency dental care too.
GET IN TOUCH WITH ME ASAP
There are lots of treatments we provide to our patients that are meant to prevent cavities, infection, and tooth pain, but sometimes these things happen anyway very suddenly.
You could be experiencing a dental emergency if:
You have a cracked, broken, or chipped tooth.
Your tooth hurts constantly or severely.
You're experiencing red, swollen, or bleeding gums.
A tooth has fallen out.
If you're dealing with any of these situations, our sympathies go out to you and we encourage you to take advantage of our emergency dentistry services so you can restore your health and quality of life.
Emergency Dentistry Is the Solution
When your day is going all wrong, emergency dentistry could be the thing that gets it back on track. At Wagner Dental, emergency dentistry treatments include:
Dental Crowns: Prosthetic teeth that fit over an existing, but damaged tooth and provide added protection.
Root Canals: With anesthetics and modern technology, a root canal treatment is quick and relatively painless. It can help relieve tooth pain and get rid of infection.
Gum Disease Treatment: If we catch gum disease in its early stages, it can be easy to treat with some professional cleanings and maybe some small lifestyle adjustments.
Dental Implants: Tooth replacements that act just like natural teeth—they even have tooth roots! They make a great option for patients with missing teeth.
Wagner Dental Can Help With Your Emergency Dental Needs!
Your urgent care at Wagner Dental makes a bad situation much better. Not only can we treat your emergency quickly, safely, and precisely, but we can give you an environment that feels safe and comfortable at the same time.
When you get treatment from Wagner Dental, you're getting more than a smile. You're getting incredible service, doctors and staff who genuinely care about you, and advanced treatments that do the job and do it well.
There's no need to wait for an emergency appointment in person. At Wagner Dental, you can get professional advice from one of our dentists from the comfort of your own home using our virtual consult. Call today to find relief and urgent care!
Common Dental Emergencies
No emergency is going to fit into a category perfectly; everyone's circumstances are a little different! At Wagner Dental, we keep in mind that our patients have individual experiences that make their situations unique, but here are some general areas that we see in patients needing urgent care:
A Lost Tooth
While it's normal for children to lose their teeth, for adults, it can be pretty frightening. There's no need to fear! If you managed to save the tooth, keep it in a glass of milk and bring it to Wagner Dental for an emergency dentistry appointment. We might be able to restore your tooth to its socket. If not, we also offer some great tooth-replacement options including:
Dental Implants: These are the ultimate prosthetic teeth. They are made up of three parts, the implant, the abutment, and the crown. Because the implant is inserted directly into the jawbone, dental implants provide maximum stability and longevity for your new tooth.
Dental Bridges: This is a perfect option for those who are missing one or more teeth right in a row. The idea is that the bridge uses surrounding teeth to bridge the gap left by missing teeth. At Wagner Dental, you can even get your dental bridges supported by dental implants!
Cracked, Broken, and Chipped Teeth
Not only can damaged teeth be painful and sensitive, but they also present an easy access point for bacteria. It's important to get chipped, cracked, and broken teeth fixed as soon as possible.
Wagner Dental has just the thing for damaged teeth. Our dental crowns are gorgeous, sturdy, and best of all, fast. We make them using advanced 3D printing technology called CEREC. This printer can make a new crown for you during your appointment!
Loose or Missing Fillings
Fillings are placed inside cavities to prevent bacteria from entering the tooth and causing a tooth infection. If you have a cavity filling that feels loose, or you notice that one has fallen out, it is an emergency.
Wagner Dental can provide quick, painless dental fillings that replace the old ones to protect them from bacteria and infection.
Broken or Detached Crowns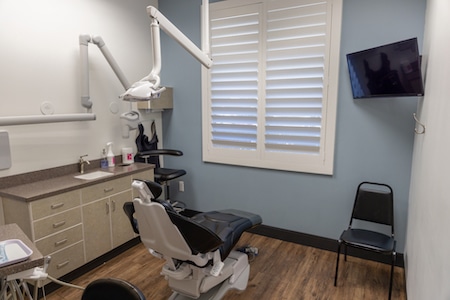 Dental crowns are placed for the sole purpose of protecting an injured tooth or replacing a missing one. If a dental crown breaks, loosens, or falls off, it can leave the tooth or implant vulnerable to damage, infection, or pressure.
Fortunately, Wagner Dental utilizes incredible CEREC printing technology that can give you a replacement crown the same day you see us for your emergency visit!
Broken Braces
Many parents fear the words, "Mom, my braces broke." Braces are expensive! Whether you choose traditional braces or Invisalign® clear braces. If you or your child has an accident involving their braces, we want to smooth the situation over as soon as possible.
We welcome the opportunity to interact with our younger patients with braces. Don't hesitate to bring your child to our office to let us get their orthodontia back in working order. And don't worry, we can work with you to get you the most affordable payment option for you.
Gum Disease
Gum disease comes in many stages, the earliest being gingivitis. If you have gingivitis, you've probably noticed the following symptoms:
Sore gums.
Gums that bleed when brushing or flossing.
Red or purplish gums.
Gums receding away from the teeth.
Gum disease in any form can be uncomfortable and even painful. At Wagner Dental, we're here to help you overcome this infection and return to a pain-free life. We offer gum periodontal treatments that can restore health to your gums and make your life loads better.
Toothache
Toothaches, especially persistent ones, can be a symptom of a few different conditions:
Tooth Decay / Infection: A highly common cause of tooth pain is a tooth infection. It's important to catch this infection soon before it can spread to your other teeth. We can easily treat tooth infections with a simple root canal treatment aided by fine-tuned technology.
Bruxism: Teeth grinding can happen while you're awake, but in most cases, bruxism manifests at night. While you're sleeping, your teeth grind together and wear down your enamel. You might wake up with headaches or tired facial muscles. After so much time with bruxism, you are likely to experience some tooth pain.
Cavity: If a cavity is bad enough, it too can cause tooth pain. Cavities are an earlier form of tooth decay that isn't as dangerous as an infection but can still cause a good deal of discomfort in some cases. We have great solutions for cavities! We use tooth-colored fillings to fill in those holes and take away your pain.
Cracked Tooth: Sometimes patients experience unexplained tooth pain only to find out that their tooth has a tiny crack in it. A great way to soothe the pain is by taking advantage of our amazing dental crowns. We use advanced CEREC 3D printers to create beautiful crowns on the same day as your visit.
Mouth Sores
Most of you have probably experienced the occasional canker sore. And no, they aren't fun, but they also don't usually present a problem. However, if they persist for more than a week or two, it's time to start being concerned.
Mouth sores can be a symptom of a lot of conditions, but we're especially nervous about abscesses. This type of sore forms around the teeth in pockets of swollen gums. It's painful and is indicative of gum disease.
When you come to Wagner with abscesses, we can check for gum disease and offer treatments that can help your body fight the infection and get rid of those sores!
Urgent Dental Care Is Right Around the Corner
Wagner Dental is here for you! Using our plethora of technology options, we can provide emergency treatments promptly and with incredible accuracy. Our handsome facilities are designed for comfort so that you can make your recovery in an environment that feels like home.
If you are in pain, have a missing or broken tooth, or have strange sores in your mouth, give us a call today to set up an appointment to get that taken care of. Or if you'd prefer, we'd love to chat with you online with our virtual consults! Whatever makes you the most comfortable.
When Should I Go to the ER Instead of the Dentist?
The emergency room is there for you when you're dealing with a situation that requires a little more care than we can provide at Wagner Dental.
You should go to an emergency room if you:
Are Bleeding Excessively: If you can't seem to control the blood flow, seek out an emergency room right away.
Have Broken Bones: If a blow to the face has caused a broken nose, cheek, or jaw, the emergency is better suited to help in those situations.
Have Severe Pain: If waiting for an appointment feels like too long of a time to endure your levels of pain, it's a good idea to go to the ER so they can ease the pain.
We often work with emergency patients who have been to the emergency room for their condition. Sometimes it's best to go to the ER first, and then come to our office afterward so we can make any restorations needed.
How Do I Manage Toothaches?
Toothaches are a very common dental issue. If the pain is persistent or extreme, this is your body trying to warn you that something is wrong. If this applies to you, you should…
Schedule an Appointment: Give us a call as soon as you can and we'll fit you into our schedule so we can take a look at what is causing the discomfort.
Take OTC Medications: Tylenol, Advil, and Ibuprofen are all great options for managing pain. They're not a lasting solution, but they can help for the time being.
Use an Ice Compress: Another option to help with pain is using an ice pack over the affected area. This can also help relieve any swelling you may experience.
Having a toothache can feel debilitating, but it won't last long if you come to see us as soon as you recognize there's an issue. Wagner Dental is about more than just giving you a good-looking smile, it's about helping you be happy with your smile.
Do You Offer Same-Day Appointments?
While we can't guarantee same-day appointments, we can guarantee that we will do our best to fit you in our schedule as soon as we can. Usually, this means either the same day or the next day.
If we can't see you on the same day, we'll give you instructions on how to manage your symptoms while you wait for your appointment time.
Are You Accepting New Patients?
We always love meeting new patients! We don't turn people away when they're experiencing a dental emergency. If we can't squeeze you in in-person fast enough for you, we also offer virtual consults that can get you dental advice on how to handle your situation without you having to leave your house.
How Much Is Emergency Treatment?
The last thing we want you to be worried about in the midst of an emergency is cost. Unfortunately, we can't provide a standardized urgent care cost because each emergency is slightly different.
Despite this, we've made financing easy for you! If your insurance won't cover the treatment, we have a wonderful third-party financing option through LendingPoint. You can access their form on our website.
Don't Wait to Schedule Your Visit for Emergency Dental Care!
Our skilled dental team at Wagner Dental is ready to help you with your dental emergencies as soon as we can! Call us as soon as you have a noticeable problem that doesn't seem to be going away on its own; we'll give you advice on how to manage your problem until you can get in to have it fixed by one of our dentists.